If you would like to work take visitors and course participants out skiing, mountaineering or walking on glaciers, in summer and in winter, then perhaps you might be interested in becoming a qualified mountain guide.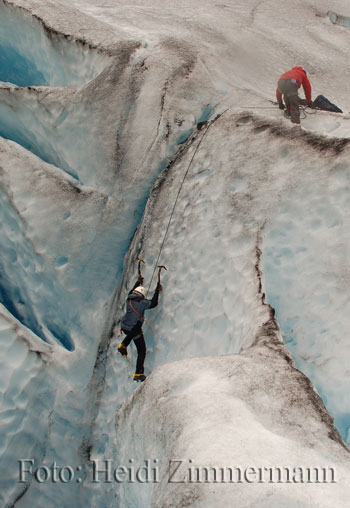 NORTIND represents the International Federation of Mountain Guides Associations in Norway, and certifies mountain guides under the international standards for work in challenging terrain in Norway and elsewhere in the world.
The certification programme lasts three years, and covers a range of topics on the natural environment and people in relation to mountaineering, glacier walking and skiing. In practice it consists of 15 weeks of courses, 10 weeks of practical work and documented self-training during the certification period.
There are two levels of certification. After the first part of the course, you can apply to become an aspirant mountain guide, and after completing the whole course you can become a mountain guide.Both of these levels have a defined status within the IFMGA.
Through our collaboration with Volda University College, the course not only qualifies you to act as a guide and give courses throughout the world, but also to obtain 90 university credits.In addition to national certification, it is possible to gain additional qualifications by taking international courses on canyoning and guiding in very high mountain terrain.