Norwegian mountain culture is based on the principles of leave no trace and the nature own dignity. Our members base their work on these principles. We welcome all foreign colleagues to work in our mountains and strongly urge all to respect and pass these principles forward to their guests. Leave no trace and respect the wildlife and flora.

The Norwegian climbing culture and ethics are based on the same principles. There is a «no bolt» ethic in the mountains and we have a long tradition for «clean» climbing. We encourages all visiting guides to follow this ethic and ask Nortind for advice before any bolts or permanent installations are established.

Most of our ski and climbing tours require to park and hike over private land. To keep a good relationship between landowners and skiers/climbers please follow the advices in the guide book, ask for permission, and/or ask the local mountain guides for advices.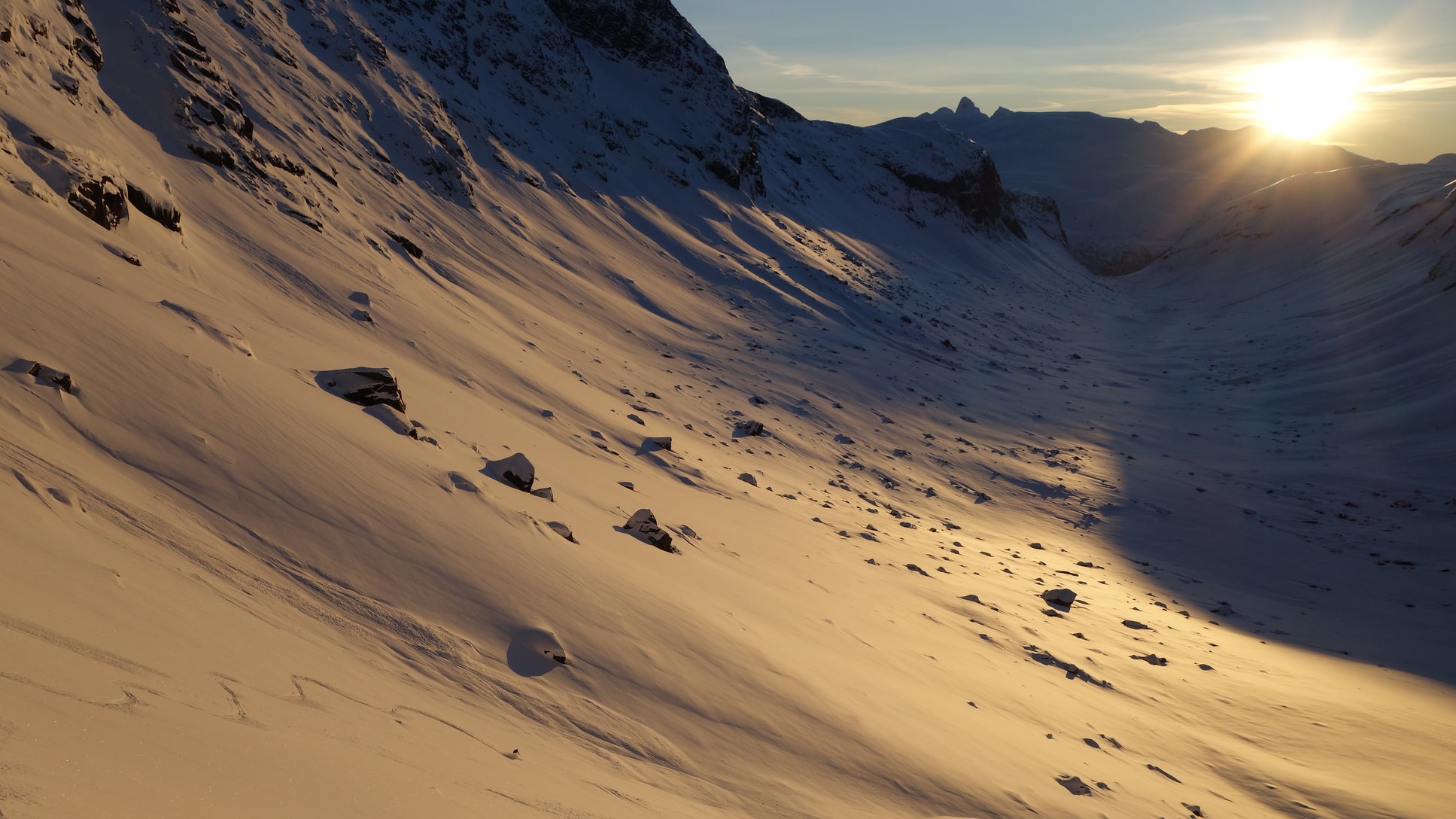 Norwegian Established Guiding Practices: 
Nortind's guiding culture is based on the Norwegian outdoor tradition, national and international standards. These are the standard that Nortind strongly recommends.
Ski touring: 
6 guests pr. guide
Nordic skiing:
6-8 guests pr. guide
Rock climbing and alpine climbing:
1 guest pr. guide, long and complex climbs
2 guests pr. guide, most routes
3 guests pr. guide, short and/or tours with little climbing 
Glaciers:
6 guests pr. guide on complex tours
Please contact us for help or assistance in an emergency or challenging event!
President: Leif I. Magnussen +4795751814
Or
 Vice President: Jørgen Aamot +4790078131
Maps
All public maps are available online and can be downloaded free of charge. Here are some of the resources:
http://www.norgeskart.no/?_ga=2.61661292.1922671966.1521376295-133365369.1521376295#!?project=seeiendom&layers=1002,1015&zoom=4&lat=7197864.00&lon=396722.00
https://www.kartbutikken.no/norge-serien
Guidebooks
Skitouring :
https://www.ffshop.no/topptur-c-14_49.html
Climbing/mountainering
https://www.oslosportslager.no/produktkategori/klatreforere-klatreboker-4-2551.aspx
https://www.vpg.no/avdelinger/produkter/klatring/f%C3%B8rere-og-b%C3%B8ker/klatref%C3%B8rere-innland
Avalanche forecasting
In Norway the avalanche forecasting is founded by the government. They are published on a daily basis from 1st of Dec to 31st of May. There are different regions all over Norway and they will differ in size. Most of them are quite big compared to Europe so you need to evaluate the local conditions and weather to get a precise situation awareness. 
Avalanche forecast is located at:
Avalanche maps:
https://temakart.nve.no/link/?link=bratthet
RegObs is an app and website to register avalanches, weather, snow and incidents. The app is linked with the phone GPS and will give you exact position and an avalanche map. You can also view last days observations in your area.
The Reg Obs app is available for iPhone and Android.
Weather
Emergency and Rescue
Search and Rescue (SAR):
Call 112 
Medical situation that don't require rescue:
Call 113 
Fire:
Call 110
The police is responsible for all SAR operations in Norway. They alert the different resources depending on the situation. If the situation requires specialists like helicopter and/or volunteers, will the mission be handed over to the Joint Rescue Coordination Center for coordination and control.
All rescue in Norway is free of charge,but its still important not to take advantage of the system if the situation can be solved on site. 
Rescue helicopters
The rescue helicopters are run by the Norwegian military. Its a quite big helicopter (Sea King) and are located at 6 different bases where 2 of them are located in north and 4 of them in the south. They are all equipped with a hoist and will require a big landing area. Be aware of the downwash.
Ambulance helicopters
These helicopters are mainly used as an ambulance but has the capacity to conduct SAR missions in the mountains. They are smaller than the rescue helicopters and they don't have a hoist. The ambulance helicopters can still conduct SAR missions in steep terrain with a fixed line. Their night and weather capacity is more limited than the rescue helicopters.
Volunteers
The volunteers are an important resource in the Norwegian SAR system. Volunteers specialists will conduct rescues of climbers and in avalanches. They are not part of the professional rescue service (but cooperate with them), and will not be on alert like the professionals. Their response time will be longer and depending on the location of the accident/incident.
In general the response time for SAR missions will be longer in Norway than Europe. The long distances and unpredictable weather will often result in a minimum of 1 hour waiting or longer if the mission has to be conducted on foot. Be prepared and equipped so you are able to handle a situation.